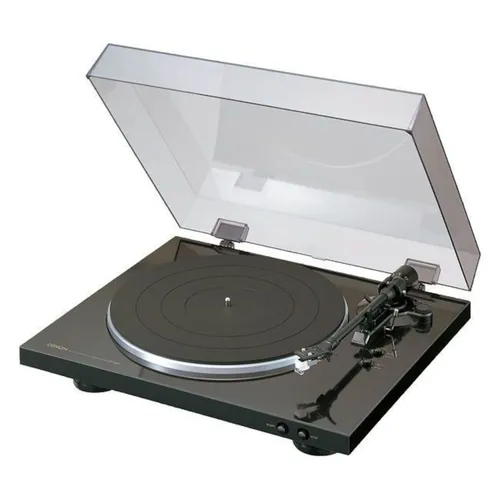 Vollautomatischer PlattenspielerRiemenantrieb , 0.10 % (WRMS)
Integrierter Vorverstärker, Tonarm straight, MM (Moving Magnet)
33 1/3 rpm, 45 rpm
Connectors: Cinch
Item No.:BP13-102
,
Manufacturer's no.:DP300FBKE2
Available since: July 2007
Item No.:BP13-102
,
Manufacturer's no.:DP300FBKE2
The DP-300F has been designed with heavier base construction for reduced vibration and performance. The tonearm has a removable headshell making cartridge replacement simple. The standard mount headshell allows for any standard mount cartridge between 5-10 grams to be mounted and balanced. The automatic startup feature allows the turntable to begin play with the touch of a button, and once play has been completed, the tonearm will be returned to the armrest gently so that the stylus and record are not damaged or scratched. The turntable is made of rigid diecast aluminum to produce uniform rotation for smooth flutter free operation. There is also a manual lifter mechanism that allows you to place the needle on the record wherever you want, so you can skip to a different song in the middle of a side.
The DP-300F includes a built-in phono equalizer to connect the player to an integrated amp or receiver that does not have its own phono input. This turntable is powered by a DC servo motor and belt drive system. You can begin to enjoy your analog record collection as soon as you connect the DP-300F to your home Hi-Fi system.
Refined external design
Fully automatic player
Straight tone arm
Diecast aluminum turntable
Built-in phono equalizer
Manual arm lifter
Refined external design
The DP-300F's cabinet wall that offers both strength and high density has been beautifully finished with a gloss coating. The straight tone arm and aluminum diecast turntable have been formed in a slim, textually attractive design. It combines very elegantly with full-size system components.
Fully automatic player
With a simple operation the tone arm automatically moves and plays the record and then returns when playback ends. Different cartridges can be used as desired, and since fine adjustments can also be made for anti-skating and zero balance, ideal conditions for playing a record can be achieved.
Straight tone arm
The DP-300F's straight tone arm brings out the maximum performance of cartridges with superior tracing capabilities.
Diecast aluminum turntable
The DP-300F's turntable has been constructed of diecast aluminum to achieve high inertial mass for stable rotation. The vibration-resistant turntable sheet uses hologram vibration analysis to improve its ability to hold a record.
Built-in phono equalizer
Since the DP-300F includes a built-in phono equalizer, it can be connected directly to a mini component or integrated amp that does not have a phono terminal.
Manual arm lifter
The DP-300F is also equipped with an arm lifter mechanism to facilitate manual operation. The arm lifter makes it easy to place or remove the needle from any location on the record.
---
Specifications for this product are unfortunately not yet available.
---
Any described warranty is supplied by the manufacturer of this article and is provided at least in germany. The full warranty information, including the coverage and requirements to claim the warranty is detailed on the manufacturers website. You can find a link to this site on our
brand overview
.
More information about warranties
.
---
---