Our various payment options


Choose from a wide variety of payment options the one that fits your needs (please note that for some options regional limitations may apply).

In addition to the "classic" payment methods including prepayment by bank transfer, C.O.D. or credit card, computeruniverse also offers convenient online payment methods like PayPal or SOFORT Banking.

In the following you´ll find a short overview of all available options.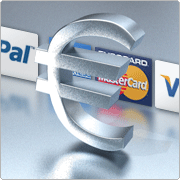 Paying by PayPal requires an active PayPal account. The payment is carried out through the PayPal website and is completed with just a few mouse clicks. If the ordered items are in stock at the time, the order will be shipped immediately after the payment has been completed.

If you are also an amazon customer, you can use amazon´s convenient "amazon pay" system to pay your order from us. The payment details from your amazon account will be used, and for maximum privacy and protection the data will stay only with amazon and will not be relayed. If you pay with amazon pay the amazon buyer protection will also apply.

When you pay by credit card, your order will be shipped as soon as all ordered items are in stock and ready for shipping.

Advance payment by bank transfer

You place your order, and then wire transfer the respective amount. As soon as the ordered items are available and we have received the payment, your order will be shipped.

Use the following account for transfers:

Commerzbank
IBAN: DE36 5008 0000 0710 4819 00
BIC (S.W.I.F.T.): DRESDEFFXXX
Account Holder: computeruniverse GmbH

Cash or Giro Card
This is the payment method of choice when collecting your order yourself at our pickup-shop. You can pay cash or with your Giro Card (EC Card), or with your credit card, too.




C.O.D. - Cash On Delivery (regional limitations apply)
You pay cash at your door upon receiving the parcel. Here is the overview of shipping and payment costs.

SOFORT Banking (regional limitations apply)
Paying through SOFORT Banking allows for orders of in-stock items to be shipped immediately. A prerequisite for this is an account with SOFORT Banking.



Direct debit (available in Germany only)
In order to make ordering even easier you can take part in the direct debit system. After a successful risk evaluation the due amount will be charged directly from your bank account and the order will be shipped (provided that all items are in stock).



Financing (available in Germany only)
In cooperation with our partner bank we offer a rate payment.

Payment on invoice (available in Germany only)
A payment on invoice is available to selected business customers, public or federal institutions, and schools and universities within Germany only.



Leasing (available in Germany only)
For our business customers we offer leasing on selected products. This option is selectable in the shopping cart only if the selected item is leasing-compliant!

MPP - Mitarbeiter-PC-Programm (available in Germany only)

With the "Mitarbeiter PC-Programm" (Employee PC Program) you can save up to 30% on the purchase price! Payment through MPP is only possible in cooperation with your employer after their registration.

At the end of the ordering process, a payment slip will be displayed. Print the payment slip or have it sent to your mobile phone. Pay for your online purchase using this payment slip at the checkout of our partner store Barzahlen.
You can pay at the cashier desk in the following shops: