Shipping options overview
Select the best shipping method for your order

computeruniverse offers ideal shipping methods for any requirement. Be it low priced through DHL/Standard Parcel Post, more quickly via DHL Express (Germany only) or UPS, or especially reliable and secure by a specifically trained freight forwarder. And in addition you can also pick up your order yourself at our Shop if you prefer. On this page you´ll find an overview of all available shipping methods.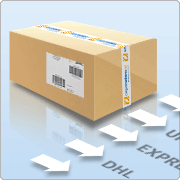 Within Germany, the standard shipment of computeruniverse packages is undertaken by a service provider commissioned by us. If you would prefer DHL to handle your package, please select "DHL package delivery" as the shipping method.

DHL package consignment provides fast delivery times and flexible delivery options. You can, for example, have your computeruniverse deliveries sent to a Packstation. A shipping surcharge of 2.00 euros is added for DHL package handling.

Guaranteed delivery on the next working day. All products marked with "express delivery possible " and are ordered on a working day until 16:00h at the latest will be delivered on the next working day guaranteed (available within Germany only).



You can collect your order yourself at our Shop in Friedberg (near Frankfurt/Main). This of course means no postage at all!

The delivery by forwarding company is made to the front door (sidewalk, curb at ground level). For this, freight forwarding costs from € 34.90 will be charged (this service is available within Germany only).

Benefit from 10 years of experience in the worldwide shipping of brand products.