Outlet
Remainders and featured items at bargain prices!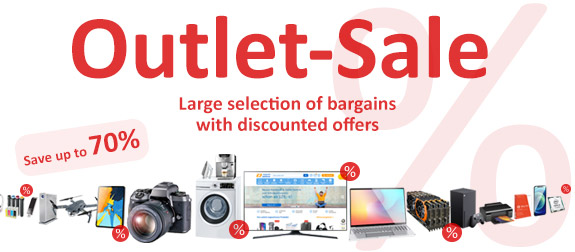 The Top Sellers from Our Outlet Collection
Buy reduced technology and remainder items cheap in the technology outlet
Why pay a lot of money when you can get high-quality technology at low prices? In our ​technology outlet you will find remainder items in excellent quality. Save now!
---
You need a new notebook, but don't feel like spending a lot of money. Nevertheless, you need a powerful device so that you can work properly. Good quality for little money, but unfortunately that doesn't exist. At least that's what you think. But there is a way to get high-quality technology for little money: the technology outlet. Here you can get reduced technology, for example remaining stock. Of course, this doesn't mean that the devices are ancient. In our computeruniverse outlet we always offer you interesting products at very low prices.
---
In our technology outlet there is a large number of different products. Notebooks, monitors, hardware, graphics cards or TVs are just a few of them. In these categories we offer discounted bargains:
Hardware and Components Outlet
In the category

Hardware Outlet

reduced mainboards and RAM are available. If you want to upgrade your PC or are looking for a product to repair, you are sure to find what you are looking for in this category. Routers, fans, processors and much more can be found in this bargain category. The graphics card outlet is also very interesting, there are always new top products at reduced prices.
Notebook Outlet
A notebook is not exactly a cheap device. In this category, many discounted notebooks are available along with the matching accessories. But also tablets and tablet cases can be found in the category

Notebook Outlet

.
Computer and office supplies outlet
Every now and then a monitor or printer breaks, even keyboards do not last forever. If it does not necessarily have to be the absolute latest model, these technology remnants are the best alternative. The

Monitor Outlet

offers reduced monitors from different manufacturers in different sizes. If you are quick, you can save a lot of money.
Home improvement, garden and household outlet
Get the garden ready for summer with a reduced robot lawn mo and then enjoy a nice coffee from a fully automatic coffee machine or a capsule or pad machine, that's even more fun with reduced equipment.
TV / Audio / Video
If you have always wanted a nice big Smart TV, but then maybe it was a little too expensive, maybe you can still fulfill your wish in this category. In our

TV Outlet

we offer various TVs at reduced prices, of course always in the best quality. Very often, beamers and projectors are also available, as well as matching TV mounts. A look at this computeruniverse outlet is always worthwhile, not only for movie and cinema fans.
Smartphone, Radio and GPS Outlet
Cell phones and smartphones - the latest devices offer many top features, but also have their price. Those who can't or don't want to spend that much money will surely find a good alternative in this category. In addition to cell phones and smartphones, you can also find the matching cell phone cases as well as smartwatches and wearables at low prices.
Cameras and accessories outlet
Camcorders, action cams and tripods - do you also want to take more pictures and shoot videos? In this category you will find exactly the right reduced technology for it.
---
There are various reasons for this. It is often the case that certain articles are only available in very small quantities. This is often the case when there is a new series. Then they find their way into our technology outlet. Particularly favorable bargains can thus be made, for example, in the area of cell phones and smartphones or even tablets. If you are not one of those people who absolutely have to be one of the first to have the latest smartphone model, but are also satisfied with the previous model, you can then make a really good bargain. Above all, because the differences between the new models and the predecessors are nowhere near as big as they were a few years ago. Often there are only small changes that distinguish the new model from the predecessor. Then, of course, buying the predecessor model at a favorable price is all the more worthwhile.
Special offers can also be found in the technology outlet. There are always items from promotions that are offered very cheap. These technology remnants also find their way into our computeruniverse outlet.
---
Absolutely. Just because a product is discounted does not mean that this product is of poor quality. Of course, if you only want the latest products, you won't find them in the technology outlet. But it does not always have to be the latest technology. Even previous models offer quite a bit of technology and are not necessarily worse equipped today than brand new devices. Why spend more money when good technology is already available at low prices? The environmental aspect should also be taken into account. A lot of energy is consumed in the manufacture of electronic products, and the environment is also polluted by the use of valuable raw materials. Products that have been returned do not have to be destroyed, but are given a second chance to convince a customer of their quality. The same applies to products from series that are being discontinued. There is no reason why they should not give someone else pleasure. Often, these reduced products are also ideally suited if, for example, a child is to get his or her first smartphone or tablet. Buying reduced technology is not only good for your wallet, but also for the environment. Give technology remnants from our range a chance and save good money.