Gigaset SL800H PRO Schnurloses Erweiterungshandgerät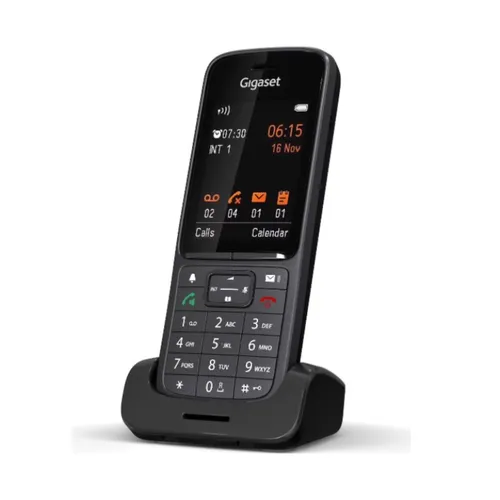 Item No.:5A22-00K
,
Manufacturer's no.:S30852-H2975-R102
Available since: June 2022
Item No.:5A22-00K
,
Manufacturer's no.:S30852-H2975-R102
excl. VAT 
Available at short notice
Delivery time 3-7 business days
Anyone expecting from a phone the slimline design of a smartphone and the technology of a professional DECT mobile device need look no further than the Gigaset SL800H PRO. It is the smallest and most lightweight cordless phone in the Gigaset Professional portfolio and features large color display, superb sound quality and excellent battery.
Anyone attaching importance to greatest level of mobility freedom will also be greatly pleased by this DECT mobile device: It can also be used easily with a headset or as a handsfree phone.
Powerful and slimline
Lightweight and durable
Ergonomic and excellent
Flexible and free
Secure and worthy of protection
Professional and practical
Powerful and slimline
True greatness manifests itself in little things: The SL800H PRO is the smallest business phone from Gigaset. Its slimline design means it looks like a smartphone. Despite its short dimensions, it boasts a large 2.4" TFT color display. This handset is lightweight and simplifies day-to-day work, also courtesy of business functions such as SUOTA, Bluetooth 4.2 and audio profiles. And the sound quality is HDSP.
Lightweight and durable
Waiting for a call but worried about missing it? You can take this lightweight DECT handset anywhere with you. And thanks to the vibration alarm, you are guaranteed not to miss any more calls - even in noisy and stressful situations. The device runs on and on: It has a battery life of up to 15 hours of talk time. Incidentally, charging is possible using the integrated micro-USB port.
Ergonomic and excellent
There is something not quite right when people are subordinate to their working environment: It is better when work is tailored to people. The Gigaset SL800H PRO is a comfortable fit in your hand, and the ergonomic keypad and lit color display are additional aids for day-to-day work. The harder surface is also an excellent feature, that makes the phone scratch-proof and resistant to disinfection.
Flexible and free
It is entirely up to you: With this DECT handset, you talk and make calls as you like - the classic way with handset, handsfree or with headset. The technology provides flexibility and freedom - thanks to Bluetooth 4.2 and a 3.5mm phone jack, headsets with or without cord can be used. This has no impact on quality: Even in handsfree mode you can enjoy superb HDSP / CAT-IQ 2.0 acoustic quality.
Secure and worthy of protection
What is private should stay private, and so the Gigaset SL800H PRO has a Hotel option. Call lists and sensitive data within a predefined time period are deleted, so other users cannot access them. This is an absolute must in the hotel and catering industry in particular. The separate button for selecting audio profiles enables you to customize further this cordless phone.
Professional and practical
The Gigaset SL800H PRO is an excellent choice for use in day-to-day work. This is because the slimline business phone is optimized for use with all professional Gigaset DECT systems. This is practical. It can also be used on CAT-iq & GAP-compatible base stations from third party vendors, both in single and multi-cell environments.
---
Specifications for this product are unfortunately not yet available.
---
Any described warranty is supplied by the manufacturer of this article and is provided at least in germany. The full warranty information, including the coverage and requirements to claim the warranty is detailed on the manufacturers website. You can find a link to this site on our
brand overview
.
More information about warranties
.
---
---