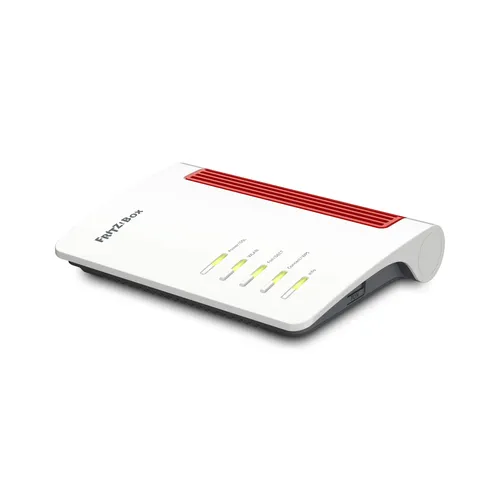 Mesh WLAN Router with integrated modem
Wi-Fi 6 (802.11ax) up to 1800 Mbit/s (2.4 GHz, 5.0 GHz)
4x GB-LAN, 1x USB 2.0
supports phones via DECT, analog, All-IP ready
Item No.:5618-189
,
Manufacturer's no.:20002930
Available since: November 2020
Item No.:5618-189
,
Manufacturer's no.:20002930
excl. VAT 
---
AVM FRITZ!DECT Repeater 100 + 75,90 €
TP-Link TL-SG1016D + 65,90 €
---
In stock and immediately available
Delivery time 1-2 business days
The AVM FRITZ!Box 7530 AX is a powerful mesh WLAN router with an integrated modem. With Wi-Fi 6 (802.11ax) technology, it reaches speeds of up to 1800 Mbps on the 2.4 GHz and 5.0 GHz frequency bands. It offers 4x GB-LAN ports, 1x USB 2.0 port, and telephone connection via DECT, analog, and All-IP. Experience fast connections and extensive features with the FRITZ!Box 7530 AX.Smartphones, tablets, game consoles and computers - the number of devices per household is increasing all the time. The FRITZ!Box 7530 AX is designed for this and supports next-generation Wi-Fi 6. New transmission methods ensure top Wi-Fi speeds, while also increasing range. And best of all: Wi-Fi 6 achieves optimal data rates even when you've got multiple devices connected to your home network at the same time. Established standards such as Wi-Fi 5 and 4 also ensure compatibility with all devices.
DSL up to 300 Mbit/s for all DSL connections
Wi-Fi 6 up to 1800 Mbit/s + 600 Mbit/s
Intelligent Mesh Wi-Fi for your home network
Telephone system with DECT base station for IP-based connections
Network with 4 x gigabit LAN, 1 x USB 2.0
Media server, NAS, MyFRITZ!, Smart Home
Wi-Fi 6 for IP-based connections
The new Wi-Fi 6 for all DSL and VDSL connections including 35b super vectoring. The FRITZ!Box 7530 AX has the latest technology on board, effortlessly connecting all your devices to the Internet.
Mesh Wi-Fi with FRITZ!
The FRITZ!Box 7530 AX supports Mesh Wi-Fi, meaning your videos, music and photos seamlessly reach every corner of your home, apartment or office. How does it work? The FRITZ! devices work together as part of a single network, communicating with each other and optimizing your wireless devices and network usage. With Mesh you can enjoy high speeds while surfing, streaming or gaming. Instead of waiting for breathtaking HD television and your favorite music, your media will wait for you.
A convenient telephone system for IP-based connections
The FRITZ!Box 7530 AX includes a telephone system for modern IP-based connections. With DECT you can create a telephone system with up to six cordless phones. There are also ports for connecting your analog telephone or fax machine. Multiple answering machines, online telephone books and numerous convenience features make phone calls via the FRITZ!Box 7530 AX a joy.
A variety of connections
The FRITZ!Box 7530 AX is suitable for all DSL connections up to 300 Mbit/s. Whether ADSL, ADSL2+, VDSL or 35b super vectoring: your FRITZ!Box establishes the connection, meaning you can sit back and enjoy high-speed Internet access. Four gigabit LAN ports and one USB port offer a wide range of options: Not only can you use these to easily integrate all your terminal devices, they also mean you can integrate your printer into your home network and provide USB storage media. This means you can access your videos, pictures and music whenever and wherever you like.
FRITZ!OS - a fully loaded operating system
FRITZ!OS, the operating system for your FRITZ!Box, is updated with new features on a regular basis. With the FRITZ!Apps you can also use your smartphone to access your data from anywhere, make landline calls in your home network, or control your Smart Home. Alongside FRITZ! Smart Home devices, the FRITZ!Box 7530 AX also supports a wide range of devices with HAN FUN and DECT ULE wireless technology from other manufacturers. And of course, all updates and apps for FRITZ! products are free of charge.
FRITZ!Box for safety's sake
You're always on the safe side with FRITZ!Box! The comprehensive security concept protects your communications. It undergoes constant testing and development. Thanks to the free updates, you can always rest assured.
---
Product Type

Meshable

Integrated Modem

VDSL2

ADSL2

VDSL2-Vectoring

VDSL2-SuperVectoring

VDSL

ADSL

ADSL2+

voice call

Radio band

WiFi Standard

WiFi transfer rate

MIMO

WPA2 encryption

LAN Ports

Ethernet standard

USB ports

All-IP ready
---
Any described warranty is supplied by the manufacturer of this article and is provided at least in germany. The full warranty information, including the coverage and requirements to claim the warranty is detailed on the manufacturers website. You can find a link to this site on our
brand overview
.
More information about warranties
.
---
---