Wireless headsets are becoming increasingly popular for the office & gaming
Sitting in your home office and working from home has become commonplace in many companies. Many workers then sit in front of their PC or laptop all day. Communication usually takes place by email or messenger services. But language communication is also part of everyday life in the home office, both with clients or colleagues. Headsets are enjoying great popularity. In gaming, they have become indispensable. But what are headsets really about and are they really as beneficial as their reputation promises? In the following article, we would like to explore this and other questions about headsets.
---
---
Headphone cables are a nuisance. The cable seems to be in the way all the time. If you're not careful, you can get tangled up and injured. Completely wireless headphones offer an alternative. They can be connected to almost any end device via Bluetooth. Wireless models which consist separately of a right and a left headphone, are called True Wireless Headphones.
---
If you want the best possible freedom of movement at the desk, in the home office, in the office or when gaming, wireless headphones are recommended. With a wireless headset, you can make calls at the best quality without having to worry about annoying cables. When buying a headset, you should pay attention to the following points: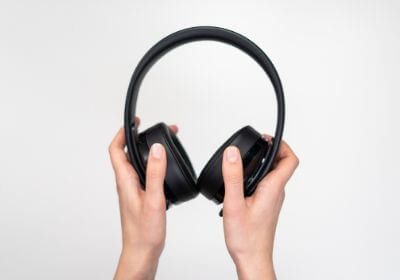 Bluetooth is the standard for many wireless headsets. Almost every end device can be connected via Bluetooth with the headset. Radio wireless headphones, on the other hand, always need an adapter and are also not compatible with every device. However, they have a high range and good voice quality.
Wearing a headset for many hours can be uncomfortable. But it shouldn't. Therefore, wearing comfort is particularly important. With an overhead headset, you should look for a low weight. Up to 350 g is a good weight for wearing the headset throughout the day without any problems.
The Design also has an influence on wearing comfort. If you prefer an over-ear design there are lightweight mono or in-ear headsets that are more suitable. However, the in-ear headsets have the disadvantage that they have a weaker microphone.
First and foremost, the headset is not meant to be used to listen to music. However, sound quality is also important for meetings, customer talks and gaming. As a rule, a microphone should be able to be quickly and easily pulled out or folded out. If you hold it close to your mouth, it can also prevent ambient noise to a large extent.
The range always depends on the model itself. Nowadays, headsets manage a range of at least at least 10 metres. Hi-fi earphones can even reach a range of up to 100 metres. Headsets using infrared technology have the disadvantage that there must be visual contact between the transmitter and receiver. With analogue radio headsets this problem no longer exists, but they have a short range. The best results are offered by Bluetooth technology. The sound quality is particularly good, although it reaches its limits at long distances. Kleer wireless technology is available in expensive hi-fi headphones. The sound quality with this is impeccable and the battery consumption is particularly low.
Headsets need power. With wireless headsets this is achieved with batteries integrated into the headphones. These last quite a long time in most cases. It depends on the radio technology and the type of battery installed. Normally, you can charge the headset at night or in between. If the batteries are empty but you need to use them, you can plug it in and still use it. This removes the freedom of movement because you are tied to the cable again, but only for as long as the charging process takes.
---
The biggest advantage of wireless headsets is their freedom of movement. You can use them when gaming as well as at your desk in the office. With a wireless headset, annoying cables are a thing of the past. This makes it easy to move around the office or home without having to put the headset down.
To ensure that the range of the headsets works over the distances, different technologies are used in wireless headsets:
Infrared technology
Today, not many headsets use infrared. With this, there must always be visual contact between the receiver and the transmitter. This restricts the freedom of movement.
Radio
Analogue headsets with radio work even through walls. However, the range is small.
Bluetooth
This transmission technology offers good sound quality. The range also has its limits.
KleerNet
BKleerNet wireless is used for gaming headsets in the luxury category. It works in the 5.8 GHz spectrum, offers a very good range and the audio signal is almost free of interference.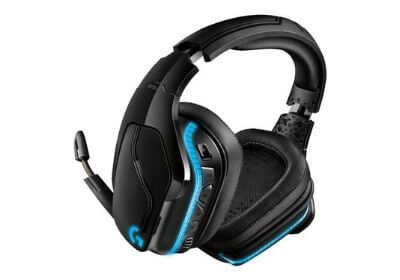 ---
| | |
| --- | --- |
| Advantages | Disadvantages |
| Good freedom of movement | Battery life is limited |
| No risk of tripping from cables hanging around | Higher cost compared to headsets with cables |
|   | Sound quality can be degraded by interference |
|   | Heavier than wired models |
---
Whether in the office, gaming, playing sports or relaxing in your free time – earphones are used everywhere. They are particularly popular without cables. With no cables, True Wireless earphones promise more flexibility and greater comfort. Nevertheless, there are also some differences in headphones, as the following overview shows.
Over-ear earphones are headphones which have a bracket shape, where the auricle is enclosed. They have pads that are designed large for comfort.
Ear
These earphones completely enclose the ear and greatly attenuate external noise. This ensures good sound development. On the move: For transport, the size of the earpieces is a disadvantage. The large ear cup makes them heavy and also unwieldy.
Form
This form is usually worn over a longer period of time. For this reason, the quality of the silicone or foam pads is important.
Health factor
On hot days, they can cause sweating. The closed system does not allow circulation and it is uncomfortably warm.
Technology
Over-ear headphones offer very good sound quality. There are models for different requirements. For gaming, for the studio and for the office.
Conclusion: Headset variants with surround sound are particularly interesting for gaming. Over-ear headphones are particularly suitable for music fans and home cinema enthusiasts.
On-Ears sind ebenfalls Bügelkopfhörer, allerdings wird bei ihnen das Ohr nicht ganz umschlossen. Die Polster liegen dabei auf den Ohren auf.
Ohr
On-Ears liegen auf den Ohren auf. Man darf sie aber nicht mit Over-Ears verwechseln. Diese liegen nicht nur auf den Ohren auf, sondern verschließen sie vollständig. Die On-Ears schirmen also weniger Außengeräusche ab als die Over-Ears.
Unterwegs
On-Ears sind leicht und gut zu transportieren.
Form
On-Ears sitzen auf dem Ohr auf. Sie halten durch Kopf- und Nackenbügel. Das sorgt für einen angenehmen Tragekomfort.
Gesundheitsfaktor
On-Ears gelten als weniger gesundheitsschädlich. Sie sind weiter weg vom Trommelfell platziert. Aber auch hier gilt es beachten, dass jede Lautstärke über 85 Dezibel dem Ohr schadet.
Technik
Bei den On-Ears handelt es sich um ein offenes System. Das bedeute, dass ein Druckausgleich stattfinden kann.
Fazit: Will man Fremdkörper im Ohr vermeiden, setzt man auf On-Ears. Man kann sie mehrere Stunden hinweg tragen und das, ohne dass sie sich unangenehm anfühlen. Sie sind gesundheitlich ungefährlich und erreichen einen guten räumlichen Klang.
As the name suggests, in-ear headphones are earphones that are placed directly in the ear.
Location
These earphones are inserted directly into the ear and benefit from a shielded sound.
On the move
In-ears are handy and small. They can be stowed away easily and are particularly suitable for transport.
Form
After prolonged wearing, the ears may hurt. That is why it is particularly important when buying them that they have the ideal fit for the ear. If you want an exact fit, you can also have earmoulds made which are optimised for the ear.
Health factor
The headphones are close to the eardrum. The sound hits the eardrum directly and cannot escape, which is why the in-ears are classified as questionable by doctors.
Technology
Thanks to the placement, in-ears reproduce bass best. Provided they also fit perfectly.
Conclusion:If you want to enjoy music in a particularly sonorous way, in-ears are ideal. From a health point of view, they are not recommended for daily wear.
---
Headsets are suitable for offices as well as for gaming. A headset combines speakers and a microphone. This offers enormous advantages when gaming, video calling or making phone calls. Nevertheless, there are differences between the models. There is also the fact that people's needs are different, making it difficult to choose the right headset.
Gaming headsets: what matters
Gaming headphones differ first in how the speakers sit on the ear:
Open headphones
These are easy to wear. They rest on the ear, which ensures that you can still hear ambient sounds such as the doorbell or the telephone. However, the disadvantage is also that the ambient noise can also be heard by the other player with whom you are connected via the headset.
Semi-open headphones
These are thicker padded and therefore also somewhat heavier. However, they allow less background noise and the sound quality is richer.
Closed headphones
These enclose the auricle completely. With this they block out any sound from outside. They allow complete immersion in the game world, but are also solid and heavier.
True Wireless Headphones for the office
In order to choose the right wireless headphones for the office, the following points should be considered:
Comfortable and pleasant to wear
In the office, headphones are often worn for several hours. They must fit well, and should not pinch nor feel uncomfortable on the ear.
Good voice quality when making calls
Whether in the home office or in the office, it is important that the voice quality is optimal. When talking on the phone, you have to understand the other person well and be understood well.
Ambient noise – noise cancelling
In the home office, it is advantageous to have noise reduction or ambient noise reduction, also called noise cancelling. This ensures that noises from the surroundings will not disturb you and you can concentrate on the conversation.
---
The wireless variant allows more freedom of movement. However, this form of headphones is also more more expensive than cabled versions. The weight of the headphones should also be taken into account. After hours of playing, the headphones should not pinch and still feel comfortable. The headphones should be be easy to use and have a good voice quality.
---
Bluetooth and wireless are not terms that can be used synonymously. Bluetooth headsets are wireless, but not all wireless headsets use Bluetooth technology.
The difference lies in the way the headphones connect to the player. Wireless headphones can use radio waves, infrared or KleerNet to send and receive signals. Bluetooth headphones use radio waves with a short range to transmit signals.
The clear advantage of wireless headphones is the absence of a cable. They transmit the sound with radio waves. Two devices are needed: a transmitter (e.g. your smartphone) and a receiver (e.g. your headphones or speakers).
Bluetooth headphones send audio signals via a 2.4 GHz radio frequency. Most wireless headphones have Bluetooth-enabled receivers. Bluetooth has a range of up to 100 metres. However, a wall and many other fixed devices can impair the reliability of the Bluetooth connection.
---
There is no health risk with True Wireless headphones. The volume should not exceed 85 decibels. For many devices, certain maximum values for the radiation emitted must also be observed. Therefore, there is no danger for the user. When talking on a mobile phone, you usually get much more radiation.
---
There is no health risk with True Wireless headphones. The volume should not exceed 85 decibels. For many devices, certain maximum values for the radiation emitted must also be observed. Therefore, there is no danger for the user. When talking on a mobile phone, you usually get much more radiation.
Created: October, 06 2023