Product reviews: Your opinion counts
Your review helps other customers!
Have you bought a product from computeruniverse and already had the chance to test it? We would be delighted if you would share your experience of the product by writing a review! Your opinion can help other customers to decide whether to buy it or not, and is also valuable feedback for us.
If you have a customer account with us and are registered for the bonus points programme, you can collect up to 200 bonus points for your product review!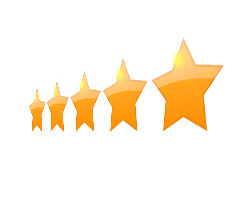 1. Find the product:
Find the product you would like to review. Please only review products that you have actually used.
2. Open the feedback form:
You can open the feedback form by clicking on the stars next to the product or by selecting the tab ´Reviews´ below the article. In both cases, you will see the button ´Review Product´ that you have to click on. The feedback form will then open.
3. Writing a review:
In the feedback form, you can award stars and highlight strengths and weaknesses using keywords. In the 'Description´ field, you then have the opportunity to expand and complete your review in a freely written text. Last but not least, you can still decide whether you would like to recommend the purchase of the product or not.