Security and confidence ...
Online shopping with computeruniverse does not only mean the maximum service and product choice, but also high security and confidence.
We have received the following independent quality certificates because of our high company standards:
Certifications and awards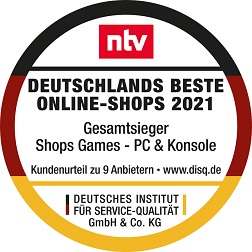 September 2021
Award winner Germany´s best online shops:
Category Games (PC & Console)
In a large consumer survey conducted by the German Institute for Service Quality and n-tv, the best online shops were determined in 2021. Evaluation criteria were amongst others product quality and variety of products, competence of telephone advice, payment options and delivery options, shipping costs and speed of shipping and handling returns.
In the category Games (PC & console), computeruniverse was voted award winner.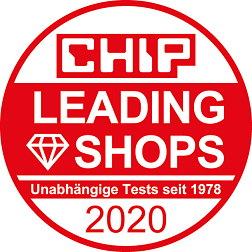 February 2020
Certification Leading Shops 2020:
Electronics and office supplies
In cooperation with Globis Consulting, a consulting and market research company specializing in customer experiences, CHIP has conducted an extensive analysis of well over 10,000 Internet shops in a multi-stage process.
The best shops were awarded "Leading Shops 2020" in their respective categories. Up to 74 criteria from the following categories were examined: Transparency & security, conditions & service, user-friendliness, product information & presentation, mobile usability.
In the field of electronics and office supplies computeruniverse received the Leading Shops Award of the year 2020.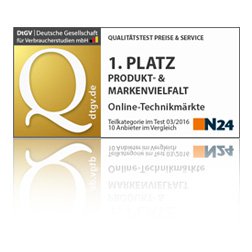 March 2016
"1st place", product and brand diversity at
Online technology stores
A study of the German society for consumer research (DtGV - Deutschen Gesellschaft für Verbraucherstudien) in cooperation with N24 examined ten online technology stores, which have a wide range of current entertainment and household electronics.
In the category of product & brand diversity computeruniverse received the rating "very good"(1,4). For example, the most popular segment "Tablet Computer" lists devices by up to 38 different manufacturers.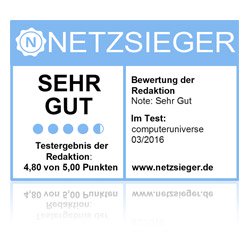 March 2016
Overall rating: "Very good"
The independent expert editorial staff of netzsieger.de awarded computeruniverse with the overall rating "very good".
The detailed test report is divided into individual categories (user friendliness, service all, privacy, etc.), whose scoring is summarized to an average overall rating.
April 2014
"1st place" and "Quality Champions" in the field of Notebook shops
The neutral and independent comparison portal, testsieger.de, named computeruniverse as the best online shop for Notebooks. "With the overall grade 1.53 ("very good"), the test champion, computeruniverse, offers its Notebook customers an excellent purchasing experience", explained testsieger.de as the reason for the result. In addition to the overall victory, computeruniverse also received the award for best service quality.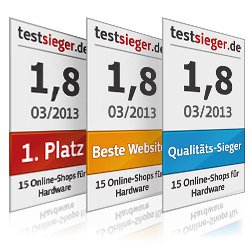 March 2013
"1st place", "Best Website" and "Quality Winner" " in the category hardware-shops
The website Testsieger.de conducted a study of 15 online retailers of hardware . computeruniverse receives with an overall rating of 1,76 three awards.
"Besides of the overall winner of all shops computeruniverse can also win the quality award and Best Website."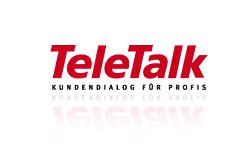 March 2013
Full Service Telephony
The magazine for Customer Service "Teletalk" published in its issue of March 2013 a special article about the innovative "Full Service Quality Management" at computeruniverse. Here you can download the article as PDF for future reference. herunterladen.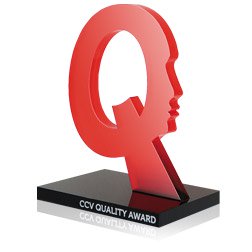 October 2012
CCV Quality Award 2012 for Customer Satisfaction
At the CCV Quality Awards for call centers computeruniverse was awarded for "Customer Satisfaction" and is now considered as the best in their line of business.
computeruniverse, based in Friedberg, scored with their excellence in the category of customer satisfaction. The lack of scripted dialogues, resulting in free, personal communication, was only one of many attributes of award winner computeruniverse that were explicitly pointed out by the jury for their decision.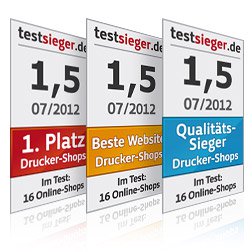 July 2012
"1st place", "Best Website" and "Quality Winner" in the category printer shops
The website testsieger.de conducted a study of 16 online retailers of printers and computeruniverse was the only shop in the study to receive an overall rating of "very good".
"With the outstanding total rating of 1.51 ("very good"), computeruniverse comes first in the test. The shop excelled particularly through its user-friendly website, varied delivery options and large variety of products with very good product information."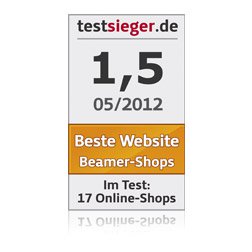 May 2012
"Best Website" in the category beamer shops
The website testsieger.de conducted a study of 17 online retailers of beamers and computeruniverse receive an overall rating of "very good".
"With the best rating of 1.50 ("very good") and a clear margin between computeruniverse and their competitors, the company secure the award for "Best Website", according to the study´s conclusion."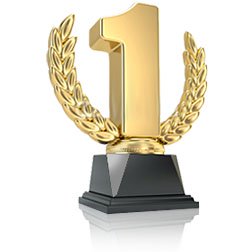 December 2009
Winner of Stiftung Warentest
In the 12/2009 issue of "test", Stiftung Warentest awarded computeruniverse the quality rating "good (2.0)" and thus the best overall score in the test.
10 online shops within the sector of consumer electronic/televisions were tested.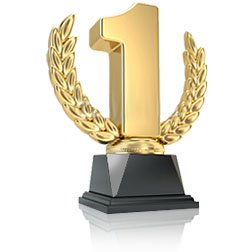 July 2006
Winner of Stiftung Warentest
The Stiftung Warentest took 10 online sellers of photography equipment in the test and closely scrutinised them, with computeruniverse.com being chosen for the quality mark of "good" and with the overall mark of 1.7 we became the winners of the test.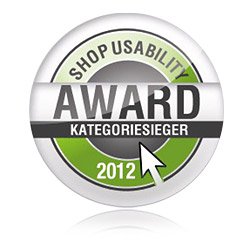 December 2012
SHOP USABILITY AWARD 2012
The Shop Usability Award honours user-friendly online shops in Germany. The award belongs to the most requested certification for online shops with more than 400 applications annually.
The online shop www.computeruniverse.net took part in the Shop Usability Award 2012 and made it into the award´s top 5 in the category of hardware, software & consumer electronics.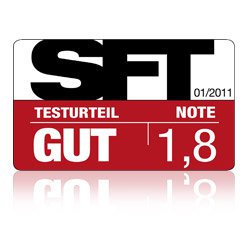 July 2005
First place of SFT
The specialist magazine SFT tested 10 online sellers in their 07/05 edition and chose computeruniverse as test winner.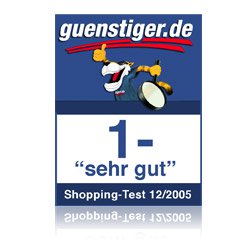 December 2005
First place on guenstiger.de
The independent online price comparison site guenstiger.de tested 10 German online shops. (12/2005). The test winner was computeruniverse!
Online shopping with computeruniverse does not only mean the maximum service and product choice, but also high levels of security and confidence. To enable us to consistently fulfil the expectations and demands of our customers, we attach particular importance to maintaining high quality standards on our website as well as in handling our orders and processing enquiries and complaints.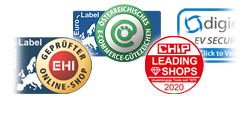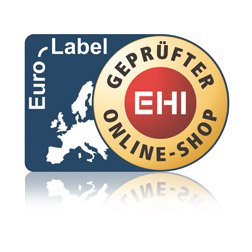 computeruniverse has been awarded the EHI Geprüfter Online-Shop seal of approval.
The criteria of the certification are continuously developed. Every year, a complete recertification of the store takes place.
The seal of approval is recommended by public institutions, including the German Federal Ministry of Justice and the d21 initiative , Germany's largest partnership between business and politics for the information society. View certificate.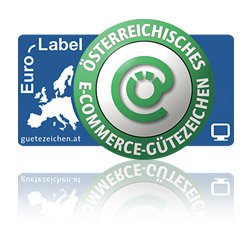 Austrian e-commerce mark of quality
This e-commerce mark of quality was developed due to the initiative of the Austrian Institute for Applied Telecommunication. The aim here is also to make serious online shops recognisable as such upon first glance and to consequently facilitate safe online shopping.
Compliance with award criteria is regularly checked and ensures a customer friendly business.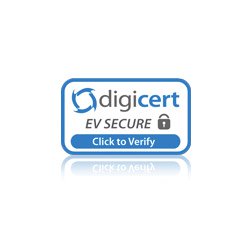 SSL Certificate
So that your personal data is not transferred unencrypted ('interceptable´) over the internet, we encrypt your orders using SSL. (TLS 1.0, SHA1+RSA with 128/256 bit encryption (high); RSA with 2048 bit exchange.