New Laptop and Notebook Models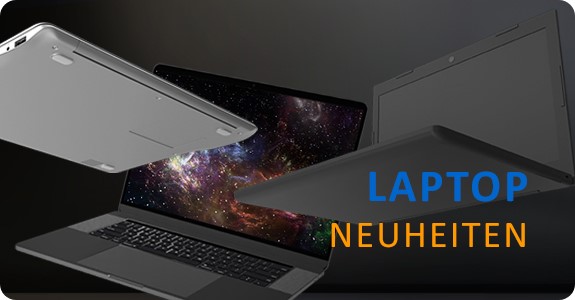 There is one very important reason why it is worth buying notebook novelties: the latest technology. New notebooks are always equipped with the latest technology. That means they have the latest processors and increasingly powerful graphics cards. As a result, they work much better overall than older models. Moreover, many modern apps and programs often only work properly if the laptop is state of the art. That is the case with laptop novelties.
---
---
The most important trend among the new notebook releases in 2022 can be found in the panel technology. Usually, the latest notebooks are equipped with an IPS panel. This panel technology represents the latest screen standard today. It is also interesting that manufacturers manage to fit more and more performance into the smallest space. Many new laptop releases in 2022 are equipped with particularly strong processors that make working with the device easier. Another trend is the touch display. More and more of the new laptops today are equipped with a touch display. This makes it possible to work much more flexibly. Especially when the device is often used on the go, a touch display is a great advantage. New laptops also always offer greater comfort than older models. They are not only much thinner and significantly lighter than their predecessors, but also particularly quiet.
---
First of all, it should be determined for which purposes the notebook novelty is to be used. You can choose between multimedia notebooks, business notebooks and gaming notebooks. There are also new models every year for the increasingly popular 2-in-1 convertibles that easily surpass their predecessors in comfort and features. It is also important to determine the desired size. If the device is to be used on the go and stored in a backpack, for example, smaller models with a maximum of 15 inches are a good choice. Notebook novelties with a size of 17 inches are suitable for gaming or creative work. The equipment should also be adapted to the desired use.
---
Every year, laptop and notebook manufacturers announce new devices that many customers then eagerly wait for. The laptop pre-announcements for 2022 include the new LG Gram 2022 series as well as new models from the Gigabyte AERO series. There are also novelties in the Medion Akoya series. Lenovo will also release new models of its Lenovo IdeaPad 3 series.
All notebook pre-announcements have a RAM of at least 16 GB. They are optimally equipped and real performance monsters for everyday use.
Among the new laptop releases in 2022 are also quite a few Chromebooks. These models are clearly on the rise. Especially the possibility to surf and work better with the OS Chrome makes these models so popular. That is the reason why Acer is also launching new Chromebooks this year.