Apple Watch Series 7 Aluminium 41mm grün Sportarmband klee
产品编号:90847516
,
制造商编号:MKN03FD/A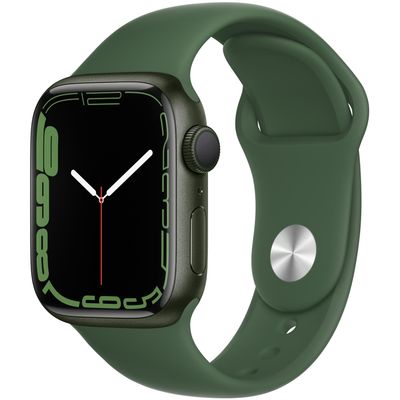 Smartwatch for iOS, Waterproof up to 50 m
Display: 4.29 cm (1.69", eckig) Touchscreen
Aluminiumcase (41 mm), Fluorelastomer bandarmband
Ion-X Glas, Bluetooth, WLAN

erfasst Blutsauerstoff, Herzfrequenz am Handgelenk, Kalorienverbrauch, Schlaf, Schritte, Schwimmzüge

Benachrichtigungen, Mediaplayer, Kalender, Inaktivitätsalarm
产品编号:90847516
,
制造商编号:MKN03FD/A
XXX的说明: Apple Watch Series 7 Aluminium 41mm grün Sportarmband klee
The larger display enhances the entire experience, making Apple Watch easier to use and read. Series 7 represents Apple's biggest and brightest thinking.
Large Retina display has nearly 20 percent more screen area than Series 6
Improved durability: crack-resistant front crystal; dust-resistant and swimproof
All-day battery life with up to 33 percent faster charging than Series 6
Advanced Apple Watch health and wellness features, including the Blood Oxygen app and the ECG app
Always-On Retina display: a brighter view of you
You don't need to raise your wrist or touch the screen to see the time or other information and complications on your watch face, because the display is always on. And now it's 70% brighter indoors when your wrist is down.
Measure your blood oxygen: breathtaking innovation
Your blood oxygen level is a key indicator of your overall wellness. It can help you understand how well your body is absorbing oxygen and the amount of oxygen delivered to your body. The remarkable sensor and app in Apple Watch Series 7 allow you to take on‑demand readings of your blood oxygen as well as background readings, day and night.
Take an ECG at any time
With the ECG app, Apple Watch Series 7 is capable of generating an ECG similar to a single-lead electrocardiogram. It's a momentous achievement for a wearable device that can provide critical data for doctors and peace of mind for you.
Charges in no time
The entire charging system for Apple Watch Series 7 has been rethought to get you up and running faster than ever. With an updated charging architecture and fast-charging USB-C cable, it takes about 45 minutes to go from 0 to 80% charge.
Stay centered
Taking a moment throughout the day to pause and breathe can reduce stress. The Reflect feature in the Mindfulness app helps you set an intention and center yourself with a beautiful animation. And new audio and video guided Meditations in Apple Fitness+ focus on improving your overall wellbeing with specific themes such as calm, gratitude, or kindness.
Fitness that revolves around you
Squat, serve, stride, you name it - Apple Watch has a workout for it. And now, there are Tai Chi and Pilates to get your endorphins going. The starting line is on your wrist.
---
本产品由生产商提供至少是德国境内的保修服务。在产品生产商网站上,您可以查看详细全面的保修信息,包裹保修范围和要求。您可以在我们的
品牌总览
找到生产商网站链接。您也可以在
这里
看更多有关保修的信息。
Suitable for

iOS ab Version 15

Special Features

Ion-X Glas

Waterproof

Waterproof up to 50 m

Max. Wristband Length

200 mm

Min. Wristband Length

130 mm

Connectivity

Wi-Fi 5 (802.11ac)

BIometric / Sensors

Kalorienverbrauch

Operating modes

Benachrichtigungen

Display

4.29 cm (1.69", eckig)
---