Garmin Lily Sport weiß / elfenbein
产品编号:90825176
,
制造商编号:010-02384-10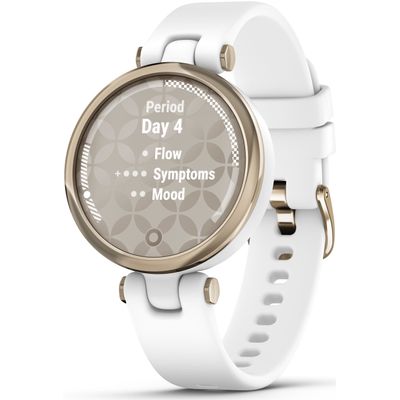 Smartwatch for Android, iOS, Windows, Waterproof up to 50 m
Display: 2.1cm (0,8" rund) Touchscreen
Polymercase (34 mm), siliconearmband
Bluetooth

erfasst Blutsauerstoff, GPS, Herzfrequenz am Handgelenk, Kalorienverbrauch, Schlaf, Schritte

Kalender, Inaktivitätsalarm
产品编号:90825176
,
制造商编号:010-02384-10
XXX的说明: Garmin Lily Sport weiß / elfenbein
You haven't seen a smartwatch this small that can do this much. With a flick of your wrist, the stylish patterned lens reveals a bright touchscreen display, and when you're done, the display disappears.
One small, fashionable smartwatch to keep track of your important health stats
See texts, calls, and calendar reminders
Track your steps, sleep, stress, and energy levels
Wellness comes easy with apps for yoga, walking, cardio, mindful breathing, and more
Go longer between charges with up to five days of battery life
Body Battery energy monitoring
Track your body's energy levels so you can find the best times for activity and rest.
Wrist-based heart rate
The watch constantly samples your heart rate and can be set to alert you if it stays too high or too low.
Stress tracking
Find out if you're having a calm, balanced or stressful day. Relax reminders will even prompt you to do a short breathing activity when you're feeling stressed.
Women's health tracking
Use the Garmin Connect app to track your menstrual cycle or pregnancy. Log symptoms, get exercise and nutrition education and more. Even see and log details on your wrist.
Hydration tracking
Log your daily fluid intake right on your watch. You can even set up hydration reminders, create goals and view your history and progress in the Garmin Connect app.
Respiration tracking
See how you're breathing throughout the day, during sleep and during breath work and yoga activities.
Pulse Ox sensor
Use the Pulse Ox sensor to spot check your blood oxygen saturation at any point during the day, or for part of the night as you sleep, to show how well your body is absorbing oxygen.
Mindful breathing
When you want to relax or focus, you can start a breath work activity, and this watch will track your stress and respiration to help you get a better understanding of how you're breathing.
Advanced sleep monitoring
Get a full picture of how you're sleeping, with a breakdown of your light, deep and REM sleep stages as well as Pulse Ox and respiration data.
Smart notifications
Receive emails, texts and alerts right on your watch when paired with a compatible smartphone. You can even respond to texts if you have an Android phone.
Safety and tracking features
When your watch and phone are paired, you can send an assistance alert with your live location to your selected contacts.
Fitness tracking
While you get out and about, Lily tracks steps, calories burned, intensity minutes and more.
Connected GPS
Connect to your compatible smartphone's GPS so you can get accurate tracking during outdoor walks, rides and runs.
Small, light design
With a lightweight watch case that measures just 34 mm, you'll only notice it on your wrist because it looks so good.
---
本产品由生产商提供至少是德国境内的保修服务。在产品生产商网站上,您可以查看详细全面的保修信息,包裹保修范围和要求。您可以在我们的
品牌总览
找到生产商网站链接。您也可以在
这里
看更多有关保修的信息。
BIometric / Sensors

Herzfrequenz am Handgelenk

Waterproof

Waterproof up to 50 m

Suitable for

Android Geräte ab Version 4.4

Connectivity

Bluetooth 5.0

Max. Wristband Length

175 mm

Min. Wristband Length

110 mm
---