Disposal of electrical and electronic equipment, batteries and energy-saving light bulbs
Disposal of electrical and electronic equipment, batteries and energy-saving light bulbs
Owners of electrical and electronic equipment must dispose it separately from the unsorted municipal waste (household waste). Batteries must be removed from the device beforehand. (Section 10 ElektroG – German Electrical Equipment Act)
To that end, manufacturers or vendors are obliged to take back electrical and electronic equipment placed on the market after 23 November 2005 free of charge. (Section 16, 17 ElektroG)
This concerns normal household quantities of small appliances measuring a maximum of 25 centimetres in length. Larger old appliances need only be taken back if an appliance with a similar function has been acquired at the same time. (Section 17 ElektroG)
If you wish to dispose of a device, you can initiate the return in the order process on our website.
Otherwise, please visit the following link to find collection sites in your local area: https://kundenportal.take-e-way.de:8080/Verbraucher-Ruecknahmestellen-finden
Alternatively, disposal can be carried out by the public waste management authorities. You will generally find numerous municipal collection points and recycling centres, etc. in your local area. (Section 13 ElektroG)
Used batteries, accumulators and lamps that are not permanently installed in a device must be removed from the device before returning it.
The owner is responsible for deleting any personal data. (Section 18 ElektroG)
The following symbol means that this electrical or electronic equipment may not be disposed of via the household waste (Section 18 ElektroG):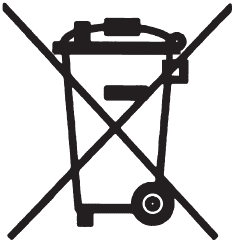 Contrary to conventional light bulbs, fluorescent lamps may not be disposed of in the household waste or in the bottle bank. Special collecting points for this can also be found, for example, at http://www.lightcycle.de/.
The following lights may not be disposed of via household waste:

LED lights (light-emitting diodes)
Low pressure discharge lamps (fluorescent lamps, compact fluorescent lamps, energy-saving light bulbs) containing inert gas and mercury
HID lights (High Intensity Discharge) containing inert gas, mercury, sodium and rare earths
Special lamps, e.g. Xenon short-arc lamps

Light bulbs and halogen lights can be disposed of via household waste
Each user is obliged to return old batteries in accordance with the German Battery Act. It is forbidden to dispose of them in household waste. Old batteries can be disposed of free of charge wherever batteries of that type are sold. Alternatively, it is also possible to return them to local municipal collection points. (Section 9 BattG)
Heavy metal batteries containing cadmium (Cd), lead (Pb) or mercury (Hg) are marked with the chemical symbol of the relevant heavy metal: