Warranty extension and device protection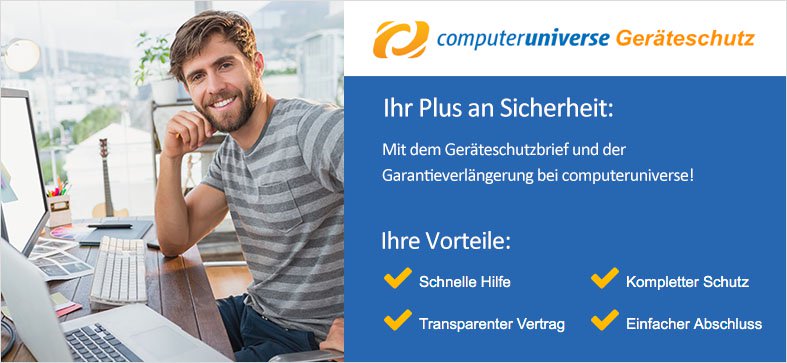 Currently, only customers from Germany, the Netherlands and Austria can sign up for a warranty extension or device protection plan. Unfortunately, we are unable to offer this service to customers from other countries at the moment.


Extra protection for your device: warranty extension and device protection at computeruniverse!
It´s annoying, but it can happened quickly: a new electronic device gets damaged right after purchase or fails shortly after the manufacturer´s warranty expires.

If you are looking for comprehensive protection for your electronic devices, you are at the right place. Computeruniverse offers you extra protection for a wide range of electronic devices by giving you the option to sign up for a device protection plan or warranty extension. This allows you to get extra protection that goes far beyond the manufacturer´s warranty for your electronic devices.


How can I sign up for a device protection plan or warranty extension?
When purchasing a new device, you can sign up for a device protection plan or warranty extension in your shopping cart at the end of the ordering process. Please note that the service is not available for every product we carry.


How much do the insurance plans cost?
How much an insurance plan costs depends on the insurance plan chosen as well as the published list price of the device (incl. VAT) without subsidies or discount. When an insurance plan is purchased with a new device, a one-time payment for the premium needs to be made separately as per invoice.


Coverage of device protection plan and warranty extension:
The warranty extension and the device protection plan cover sudden and unforeseen damage to the hardware of the insured device during the cover period stipulated in the insurance policy.

Please refer to the general terms and conditions of the insurance and the relevant product information sheet for full details and contract terms. You can look through both documents during the ordering process; the documents can be found in your shopping cart. You will also be sent a copy of both documents by email after signing up for an insurance plan.