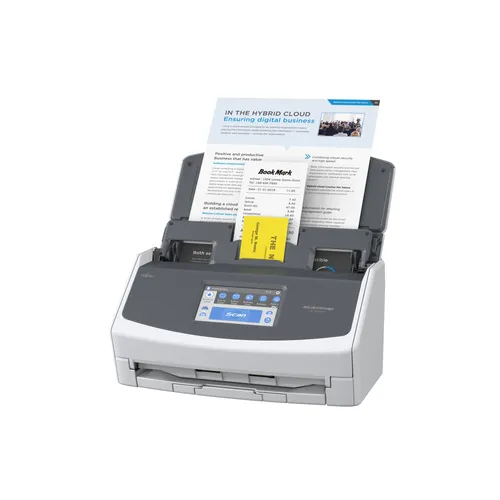 A4 Document scanner
600 x 600 dpi, 32 Bit Colour Depth, CIS
up to 40 ppm color
up to 40 ppm b/w
USB, WiFi, Duplex, 50 Sheets Media capacity
Item No.:6904-164
,
Manufacturer's no.:PA03770-B401
Available since: January 2021
Item No.:6904-164
,
Manufacturer's no.:PA03770-B401
excl. VAT 
(only 1 pieces)
In stock and immediately available
Delivery time 1-2 business days
For those with a need for speed, the next generation iX1600 offers the ultimate in personal productivity. Busy teams can digitize and organize all your documents with one touch, and enjoy all the benefits you'd expect from ScanSnap within the fastest possible times.
It can be hard work keeping a business in shape, and everyone can do with a bit more time back at the end of the day.
The ScanSnap iX1600 was designed to help anyone achieve maximum productivity, with advanced organizational features that give you greater control, effortlessly.
The iX1600's 4.3-inch LCD touchscreen delivers the future of scanning now. Instead of choosing what you want to do each time you scan a document, with one touch, the pre-defined profile buttons will automatically create the required file type and save it to your preferred destination - even if it's in your cloud. The touchscreen also allows for color-coded button sets for up to five teammates, making it the smarter way to work together using the same device.
Plus, you can quickly set up and use the iX1600 anywhere you have Wi-Fi without the need for a PC. Scan straight to your cloud services using ScanSnap Cloud. And a streamlined scanning process lets you scan batches of different document types with no need to prep and sort, turning lengthy chores into quick, even enjoyable jobs.
The all-in-one ScanSnap Home software brings together all your favorite functions to help you power through your scanning in no time. By making your paperwork effortless, you can finally focus your day on what matters most.
Wherever you call your desk, the iX1600 offers next generation scanning performance and the ultimate in personal productivity to connect your worlds with one-touch.
Intuitive 4.3-inch touch screen
Wi-Fi (2.5/5GHz) or USB connectivity
33% faster than its predecessor - Fast scans up to 40 ppm/80 ipm (A4-size documents, color, 300dpi)
ScanSnap Cloud connects to your favorite cloud drive to manage your documents, receipts, business cards, and photos
Holds 50 sheets in the Automatic Document Feeder (ADF)
Perfect for both individual and team use
Stable paper feeding through Ultrasonic Sensor and high-quality Brake Roller
Receipt Guide provides stable scanning for inconsistent paper sizes
Produces clean images using Streak Reduction
Stay Organized with ScanSnap Home
Optimized user experience
ScanSnap iX1600 features an intuitive 4.3inch touch screen for complete end to end scanning and data utilization
Customize your preference
The scanner supports up to 30 customizable profiles. Customize the profile on the touch screen based on your scanning needs. Personalize scanning icons using color, icons or letters
Scan anywhere you want whenever you want
Wi-Fi compatibility allows you to directly connect to your smart devices or cloud services without PC, and allows for flexible placement wherever its convenient
Ideal for team sharing
One scanner supports up to 4 user licenses each allowing user profile and icon customizations.
Stress-free usability for any users
Friendly user interface enables even the most technology challenged users to scan and complete their tasks with peace of mind.
Clean, improved images
The iX1600 produces consistent, high quality and clean images. Even if streaks do appear on scanned images, the Streak Reduction function removes them, reducing the hassle of time-consuming rescans. Automatically removes blank pages, deskews and rotates, detects color, grayscale and black and white, detects document size
Scan receipts and much more
Reduce paper preparation even before hitting the scan button. Scan oversized or difficult documents, including envelopes, receipts or business cards.
Experience the best with ScanSnap Home software
The ultimate document management platform which combines all of your favorite functions into one. Easily manage, edit and access data from documents, business cards, receipts and photos with the software.
Connect with ScanScap Cloud without the PC
You can choose to scan data directly from the ScanSnap iX1600 to your favorite cloud service without a computer or mobile device. The software automatically recognizes and organizes your file type by documents, receipts, and business cards, and sends it to the appropriate cloud based on your pre-set profiles.
---
Scanner type

Document Size

Max. Resolution

Duplex

Scan technology

Colour depth

Scan Output (Colour)

Printer Output (BW)

LAN

WiFi

Connection

Paper input
---
Any described warranty is supplied by the manufacturer of this article and is provided at least in germany. The full warranty information, including the coverage and requirements to claim the warranty is detailed on the manufacturers website. You can find a link to this site on our
brand overview
.
More information about warranties
.
---
---