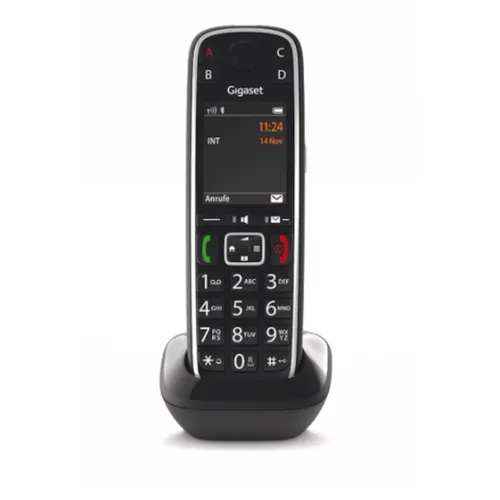 Mobilteil
Phonebook (200 numbers)
Schnittstellen: DECT, Eco-DECT
14h Gesprächszeit, 300h Stand-by

Direktwahltasten, hörgerätekompatibel, Notruffunktion, Room Surveillance, Wideband
Item No.:5A22-00J
,
Manufacturer's no.:S30852-H2963-B101
Available since: October 2021
Item No.:5A22-00J
,
Manufacturer's no.:S30852-H2963-B101
excl. VAT 
(only 1 pieces)
In stock and immediately available
Delivery time 1-2 business days
This exclusive telephone has many practical accessibility functions for all routers with DECT basis.
Bluetooth connection to a hearing aid
Boost key
Bigger is better: the large font function
SOS function
Talking dial keys and spoken caller ID
Radiation-free calling
Bluetooth connection to a hearing aid
Look forward to more freedom when taking a call: this phone lets you take calls via a direct connection to your hearing aid. Because, thanks to Bluetooth 4.2, Gigaset E720 cordless handsets enable easy integration of modern hearing aids. This makes taking and making calls even easier - and more convenient, too: You have both hands free and enjoy crystal-clear voice transmission.
Boost key
In some situations, it can't be loud enough. You already have a choice of five different levels for the speaker volume. If that's not enough, you can easily double the speaker volume by pressing the boost key on the right of the handset - this works only for the duration of the call in progress to avoid startling the next person making a call.
Bigger is better: the large font function
Gigaset E720 phone for senior citizens offers you a large, high-contrast color display with a loupe function for displayed characters. For instance, a contact selected from the handset directory will be automatically magnified and highlighted. If the magnified name is too long for the screen, it will appear as a moving "crawler" display.
SOS function
You can assign especially important numbers to the four direct dial keys and dial them directly by pressing a single key. An SOS function for use in emergencies can also be assigned to direct dial key A. Up to four SOS numbers can be assigned to this key for calling important contacts such as relatives or neighbors.
Talking dial keys and spoken caller ID
With a Gigaset E720, you are always in complete control and can have the numbers you dial read out and spoken for confirmation. The number of the incoming caller is also announced when the contact is registered in your handset directory. Even more practical: The caller's name can also be announced. Simply add a voice recording of the name to the entry in your handset directory.
Radiation-free calling
The E720 is also fitted with environmentally friendly DECT technology. During a call, the transmission power automatically adapts to the distance between the base and the mobile unit. The shorter the distance from the base, the lower the radiation.
---
Product Type

Display

Name & Number Directory

Call list

Connectors

Headset connection

Answering machine

Standby time

Talk time

Color

Handsets included

Special Features

Speed dial buttons

Room Surveillance

hearing aid compatible

Wideband

Emergency call function
---
Any described warranty is supplied by the manufacturer of this article and is provided at least in germany. The full warranty information, including the coverage and requirements to claim the warranty is detailed on the manufacturers website. You can find a link to this site on our
brand overview
.
More information about warranties
.
---
---