AVM FRITZ!WLAN Mesh Repeater 3000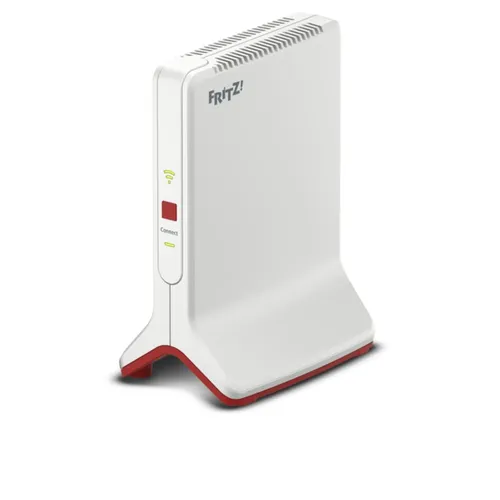 Mesh WiFi Repeater
Wi-Fi 5 (802.11ac) up to 3000 Mbit/s (2.4 GHz, 5.0 GHz)
2x GB-LAN
All-IP ready
Item No.:5830-00N
,
Manufacturer's no.:20002856
Available since: February 2019
Item No.:5830-00N
,
Manufacturer's no.:20002856
With the FRITZ!Repeater 3000 AVM is expanding its portfolio of Mesh products for high-performance Mesh Wi-Fi networks. To ensure Wi-Fi with high speeds reaches every corner of a bigger home or office, the FRITZ!Repeater 3000 offers maximum performance via its three radio units with smart Mesh repeating and two gigabit LAN ports. The new repeater transmits in the 2.4 and 5-GHz frequency bands concurrently. The additional 5 GHz wireless channel is ideal for connecting all devices in the Mesh network to the FRITZ!Box, as this dedicated channel allows Mesh routers and Mesh repeaters to communicate with each other. The Mesh Repeater makes efficient use of the entire wireless spectrum, meaning users will always have stable connections with high data throughput levels, whether they're playing games, streaming or just checking their emails. Innovative Wi-Fi technologies such as band steering including idle steering (11v, 11k) mean that smartphones and tables can switch the frequency band more quickly - including for existing connections. It doesn't matter if the tablet or smartphone is near the Mesh Router or far away from the Mesh Repeater, the new FRITZ!Repeater 3000 blankets the home or office in Wi-Fi, from which users' mobile devices also profit. The new Mesh Repeater can be placed anywhere and can be connected to you the FRITZ! home network at the touch of a button. The FRITZ!Repeater 3000's power consumption is also impressive, remaining low despite the Repeater's high performance.
A high-performance Mesh Repeater for a wide range of applications and high data throughput in your wireless network
Equipped with three radio units that work with 2.4 GHz and 5 GHz simultaneously (max. data throughput rates of 400 Mbit/s at 2.4 GHz (2 x 2), 866 MBit/s at 5 GHz (2 x 2) and 1733 Mbit/s at 5 GHz (4 x 4)
Connects to a router/FRITZ!Box via the dedicated 5-GHz band with max. 4 x 4 (uplink), an independent second access point in the 5 GHz band (2 x 2) for connecting Wi-Fi devices
Increases the range of any wireless network quickly and easily
Easy setup at the touch of a button
Keeps the wireless network name and wireless password of the existing wireless network (on every wireless router via WPS), meaning no changes have to be made to the wireless devices
Top wireless performance everywhere thanks to band steering incl. idle steering
2 x gigabit LAN ports for connecting network-enabled devices by cable
Color LEDs indicate the connection setup and connection quality; with the FRITZ!App WLAN users can also find the best sport for their wireless connection
Vertical Repeater that can be placed anywhere in the home or office, with the following dimensions (8.8 x 13.6 x 18.4 cm)
Low power consumption in standby mode and when being used
---
Product Type

Meshable

Radio band

WiFi Standard

WiFi transfer rate

MIMO

WPA2 encryption

LAN Ports

Ethernet standard

All-IP ready
---
Any described warranty is supplied by the manufacturer of this article and is provided at least in germany. The full warranty information, including the coverage and requirements to claim the warranty is detailed on the manufacturers website. You can find a link to this site on our
brand overview
.
More information about warranties
.
---
---