Telekom Speedport Smart 4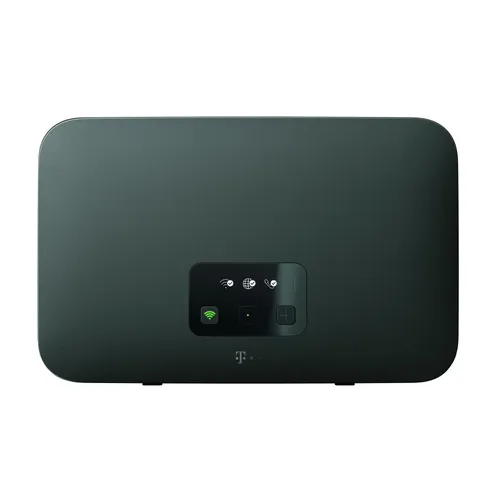 Mesh WLAN Router with integrated modem
Wi-Fi 6 (802.11ax) up to 6000 Mbit/s (2.4 GHz, 5.0 GHz)
3x GB-LAN, 1x USB 2.0
supports phones via DECT, analog, All-IP ready
Magenta SmartHome kompatibel
Item No.:5645-00C
,
Manufacturer's no.:40 896 157
Available since: June 2023
Item No.:5645-00C
,
Manufacturer's no.:40 896 157
excl. VAT 
---
Good Connections Patch Netzwerkkabe... + 4,70 €
Good Connections Patch Netzwerkkabe... + 2,30 €
---
Available at short notice
Delivery time 3-7 business days
The Telekom Speedport Smart 4 is a powerful mesh Wi-Fi router with an integrated modem. It offers ultra-fast Wi-Fi 6 (802.11ax) speeds of up to 6000 Mbps. With 3 Gigabit LAN ports, a USB 2.0 port, and telephone functionality via DECT, analog, and All-IP, it is versatile. Compatible with Magenta SmartHome. Enjoy fast, reliable, and connected internet in your home.The new Speedport Smart 4 combines ease of use with sustainable design and top performance. For the first time, Telekom is integrating a display into its routers, making control child's play. The two-line OLED display provides information about the status and supports users during installation and operation. It offers many additional convenience functions, such as simple connection to the guest WLAN via a QR code. The device displays the speed of the current connection via the speed test function.
Wi-Fi 6 and mesh technology for stable network throughout the home
Speed Home WLAN completes new offering
All-round sustainable concept
Wi-Fi 6 and mesh technology for stable network throughout the home
The Speedport Smart 4 is ideal for a home network with applications running in parallel. The router impresses with Wi-Fi 6, the WLAN standard of the future. Up to nine antennas ensure greater range and a speed of up to 6,000 Mbps. The integrated mesh technology enables fast and stable data transmission. Together with the new Speed Home WLAN mesh repeater, the router delivers Internet reception to every corner of the home. The router connects to up to five mesh-capable repeaters. This means that even data-intensive streams are no problem throughout the house. The router supports MagentaTV and transmits several channels in high-resolution 4K/UHD. The Speedport Smart 4 is suitable for ADSL, ADSL 2+ and VDSL connections. The device also supports vectoring, super vectoring, and fiber-optic connections. An additional fiber-optic modem is required for use on a pure fiber-optic connection. In addition to the connection for an analog telephone, the router also has an integrated DECT-CAT-iq base station on board. Up to five Speedphones thus enable phone calls in HD voice quality. The preset DECT and WLAN encryption via WPA3/WPA 2 Mixed Mode and the high-performance VPN solution Wireguard ensure a high level of security. It allows users to access the home network and the operating menu remotely.
Speed Home WLAN completes new offering
Traditional routers only have a limited range. Large living spaces and several floors are usually only moderately supplied with WLAN by them. It is difficult for the WLAN signal to get through walls and ceilings. Even furniture and large plants slow down good reception. Ideally, therefore, the router should be placed somewhat higher and as centrally as possible in the apartment. That way, the distance to all rooms is short. Mesh technology provides significantly more stable connections with better coverage. It creates a single network through the cooperation of several devices and thus ensures optimum WLAN reception. For this purpose, Telekom is launching the new Speed Home WLAN mesh repeater to accompany the Speedport Smart 4. Two 2.4 GHz and four 5 GHz antennas ensure comprehensive and stable Wi-Fi 6 coverage throughout the home. Transmission speeds in Wi-Fi 6-only networks are up to 4,800 Mbps at 160 MHz channel bandwidth. Since Wi-Fi 6 is compatible with previous WLAN standards, the repeater enables combination with well-known mesh devices from Telekom. These include Speed Home Wi-Fi and the MagentaTV Box.
All-round sustainable concept
Like the Speed Home WLAN, the Speedport Smart 4 scores points when it comes to environmental performance. The packaging is made of recycled cardboard and FSC Mix-certified paper. Telekom uses 30 percent less cardboard material and does not use any plastic at all. Environmentally friendly, plant-based ink is used for printing. Among other things, the absence of harmful substances is evidenced by the LAN connections, which are free of harmful substances. The housing of the router itself is made of 90 percent fully recycled plastic. After use in the rental model, Telekom refurbishes the devices and uses them again.
---
Product Type

Meshable

Integrated Modem

ADSL

ADSL2+

VDSL

VDSL2

VDSL2-Vectoring

VDSL2-SuperVectoring

voice call

Radio band

WiFi Standard

WiFi transfer rate

MIMO

WPA2 encryption

LAN Ports

Ethernet standard

USB ports

All-IP ready
---
Any described warranty is supplied by the manufacturer of this article and is provided at least in germany. The full warranty information, including the coverage and requirements to claim the warranty is detailed on the manufacturers website. You can find a link to this site on our
brand overview
.
More information about warranties
.
---
---