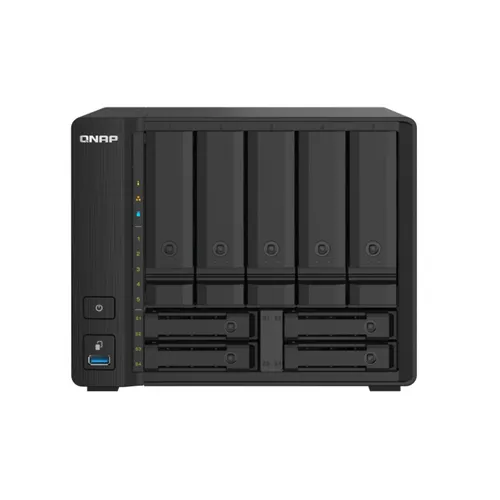 9x 2.5" SATA3 Slots, HotSwap
RAID modes: JBOD / 0 / 1 / 5 / 6 / 10
2x 2.5Gbase LAN + 2x 10Gbase LAN, Webserver
3x USB3.1 Gen 1
CPU: Quad Core 1.70 GHz, 4 GB RAM
TorrentClient, FTP-Server
Item No.:3F43-1TU
,
Manufacturer's no.:TS-932PX-4G
Available since: August 2020
Item No.:3F43-1TU
,
Manufacturer's no.:TS-932PX-4G
excl. VAT 
---
Seagate Exos X18 ST18000NM000J + 345,00 €
Seagate IronWolf Pro ST20000NT001 + 533,00 €
---
(only 1 pieces)
In stock and immediately available
Delivery time 1-2 business days
The quad-core 1.7GHz TS-932PX fits nine drive bays into the size of a five-bay NAS. With five 3.5-inch SATA 6Gbps drive bays and four 2.5-inch SATA 6Gbps bays, the TS-932PX provides the ability to create an HDD/SSD hybrid infrastructure to boost application performance. With two 10GbE SFP+ and two 2.5GbE LAN ports, the TS-932PX supports next-generation networks for empowering bandwidth-demanding applications and providing smoother file access and sharing.
Two 10GbE SFP+ and two 2.5GbE RJ45 network ports empower bandwidth-demanding tasks and accelerate file sharing
HBS provides comprehensive backup and data recovery; QuDedup deduplicates the data at the source to optimize storage and bandwidth usage, while reducing backup times
Snapshots record your system status, allowing you to protect files and data from accidental deletion and malware attacks
Cloud storage gateways realize hybrid cloud applications by working with the cache space reserved on NAS to ensure low-latency data access to the cloud
Qtier auto-tiering technology and SSD caching enable constant storage optimization
Energy-efficient quad-core processor
Powered by a 64-bit quad-core 1.7GHz Alpine AL-324 processor and 4GB DDR4 RAM (expandable to 16GB), the TS-932PX is highly energy-efficient without impacting system or application performance.
High-speed 10GbE and 2.5GbE connectivity
The TS-932PX includes two 10GbE SFP+ and two 2.5GbE LAN RJ45 ports, providing out-of-the-box support for high-speed networking and supporting port trunking and failover to reinforce your network infrastructure.
Boost NAS performance with 2.5-inch SATA SSDs
SSDs can greatly improve NAS performance without requiring a heavy investment. The TS-932PX supports an SSD cache technology, Qtier auto-tiering, and SSD over-provisioning, helping you to balance storage performance, storage allocation, and IT expenses.
Protect important data with snapshots
Snapshots fully record the NAS system state and metadata and can be used to quickly restore files to previously-recorded states if they are accidentally deleted/modified or if the system is compromised by ransomware. QNAP snapshots are block-based and only record modified data. Not only does this save storage space, but also reduces the time required to back up and restore data. The TS-932PX supports up to 256 snapshots per NAS and up to 64 snapshots per volume or LUN.
Multi-point file backup, access, and sync
The TS-932PX supports common file-sharing protocols (including SMB/CIFS, AFP, and NFS) for Windows, Mac, and Linux /UNIX devices.
Smart AI photo management
QuMagie integrates QuMagie Core AI image recognition technology for facial recognition, subject identification, and geotagging photos. Similar photos are categorized into People, Places, and Things albums. QuMagie also features a built-in timeline scroll, customizable folder covers, iOS Live Photo display, and a powerful search tool, to provide you with the ultimate photo management and image sharing solution.
Low-latency access to cloud data with cloud storage gateways
By deploying cloud storage gateways and enabling local caching on the TS-932PX, you can seamlessly use the cloud for storage, backup, and data recovery with low-latency access, providing an innovative hybrid cloud experience.
Easily find and automatically organize files
The TS-932PX provides greater convenience for managing files. You can quickly find files using Qsirch and auto-archive them with Qfilin.
---
Capacity

Numbers of bays

HDD Form factor

HDD Interface Interface

HotSwap

No. of Disks included

Capacity per Drive

RAID 0

RAID 1

RAID 5

RAID 6

RAID 10

JBOD

WiFi

Ethernet Connectors

2x 2.5Gbase LAN + 2x 10Gbase LAN

Thunderbolt ports

USB Type-C ports

USB 3.1 Gen 2 ports (USB 3.1)

USB 3.1 Gen 1 connectors (USB 3.0)

USB 2.0 Connectors

eSATA Connectors

CPU Cores

CPU Frequency

RAM

Webserver

Rack mountable

Special Features
---
Any described warranty is supplied by the manufacturer of this article and is provided at least in germany. The full warranty information, including the coverage and requirements to claim the warranty is detailed on the manufacturers website. You can find a link to this site on our
brand overview
.
More information about warranties
.
---
---