---
There are different versions of the Apple MacBook. Besides different variants of the MacBook Pro models, there is currently a MacBook Air and the small MacBook. They all differ in size, weight and features.
To find the best model for your personal needs, it is important to know the differences and possibilities of the individual versions. In the following chapters, we will help you find the right MacBook.
---
Besides numerous differences, all MacBooks have a few things in common. All models have an elegant and robust unibody case made of aluminum. All devices have a fast SSD instead of a hard drive. No current MacBook has a hard drive or DVD drive anymore.
Except for the MacBook Air, all MacBooks have a butterfly keyboard with an extremely short key drop. Furthermore, all models have very high-quality and bright screens.
If you need access to a DVD every now and then, use an external DVD drive with a MacBook.
---
A MacBook Pro is especially suitable for professionals and demanding users who also need the performance of a desktop computer on the go or want to replace it completely.
The MacBook Pro models have high computing power and are faster and more powerful than all other MacBook models.
Except for the smallest model, all versions have two graphics chips and either a very high-quality 13- or 15-inch display, which is especially appreciated by photographers. Their resolution is higher than the other MacBook variants.
A MacBook Pro weighs between 1.4 and 2 kilograms. Its battery lasts for an entire workday and its storage capacity reaches a maximum of one or two terabytes (SSD). Cheaper versions have a classic function bar on the upper keyboard edge, while others have a touch bar in this place. This is a kind of display bar (OLED) that can be configured with shortcuts, for example, and also includes a fingerprint sensor.
Models with a touchbar usually have stronger processors. These models are available in two colors (silver and gray), the others only in silver. Not all models have USB 3 slots, some only USB C ports (Thunderbolt). Not all MacBook Pros have an SD memory card slot either.
A 13-inch MacBook is a good choice for those looking for high computing power but light weight and small case size.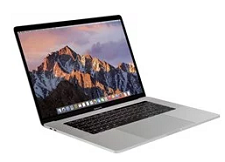 ---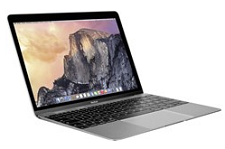 The MacBook has no other name suffix and is the smallest and lightest of all variants. It weighs well under one kilogram and is hardly thicker than a tablet when folded. That makes it ideal for on the go.
The MacBook does not need a fan and is therefore as quiet as a mouse. Despite the ultra-slim design, a powerful battery is installed that lasts for a whole workday. However, you should not perform too computationally intensive tasks, otherwise the time will shrink.
Fanless operation and a slim case mean compromises, for example in the processor. It is fast enough for office work, web surfing, editing vacation photos and watching full-screen HD videos. The device performs all these tasks smoothly. However, the weakest of all MacBooks occasionally experiences short delays during demanding tasks.
The 12-inch display is high-resolution, high-contrast, colorful and has a very high pixel density thanks to Retina technology. The working memory and the SSD are soldered and cannot be upgraded. Thus, it is important to decide with foresight when buying.
The number of ports is very limited. One USB C jack and one headphone jack are all. Thus, a separately available adapter is needed to connect a USB stick or external monitor.
First choice for gram hunters: The MacBook even fits into smaller handbags.
---
The MacBook Air is the former smallest, thinnest and lightest MacBook. Today, the aged version is the most affordable variant for beginners. Still available is the version with a 13-inch display, the only one without Retina resolution and with the lowest pixel density of all MacBook versions.
Although the longest on the market, the processor used is up to date. The MacBook Air calculates significantly faster than the MacBook but slower than a MacBook Pro. The battery is powerful and lasts over a workday.
The MacBook Air weighs just under 1.4 kilograms, has 8 gigabytes of working memory and an SSD with a maximum of 512 gigabytes of storage. It is one of the few devices that still has an SD card slot. It is the only one without a Force Touchpad and thus does not react to different finger pressures.
Für manchen möglicherweise interessant: Das MacBook Air ist das einzige MacBook, das noch ein leuchtendes Apple-Logo auf der Displayrückseite hat.
The former advantages, such as low weight and flat design, have evaporated. Moreover, Apple has not updated the design for quite some time. It could happen that Apple retires the MacBook Air, like the smaller 11-inch version, in the foreseeable future.
Nevertheless, the MacBook Air is still a light, slim companion for on the go. Above all, its relatively low entry-level price makes the device particularly interesting for beginners, who can buy it with a clear conscience.
Economy foxes who would like to take their first steps on a mobile Mac should consider a MacBook Air.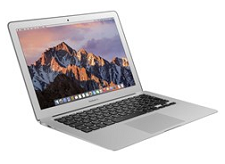 | | | | | |
| --- | --- | --- | --- | --- |
|   | MacBook Air 13,3" | MacBook 12" | MacBook Pro 13,3" | MacBook Pro 15,4" |
| Resolution | 1440 x 900 Pixel | 2304 x 1440 Pixel | 2560 x 1600 Pixel | 2880 x 1800 Pixel |
| CPU | Core i5 (5th gen. and higher) | Core m3 (7th gen. and higher) | Core i5-6360U | Core i7 (7th gen. and higher) |
| RAM | from 4 GB | from 8 GB | from 8 GB | from 16 GB |
| Graphic | Intel HD Graphics 6000 | Intel HD Graphics 615 | Intel Iris Graphics 540 | AMD Radeon Pro 560 |
| Memory | from 128 GB SSD | from 256 GB SSD | from 128 GB SSD | from 256 GB SSD |
| Battery | 54 Wh | 41,4 Wh | 47 Wh | 76 Wh |
| Weight | 1,35 kg | 920 g | 1,4 kg | 1,83 kg |
| Ports | Thunderbolt | Thunderbolt | Thunderbolt | Thunderbolt |
Table 1: Comparison MacBooks
---